Facial Fillers

Problem Areas:
Dark circles under eyes
Marionette lines (jowls)
Lines around the mouth
Sagging cheek bones
Thin lips
Facial Fillers:
Juvéderm XC Ultra Plus®
Voluma®
Restalyne®
Perlane®
While many people think of aging as merely getting wrinkles, it is also commonly associated with the loss of volume in the face. Skin loses collagen and elasticity as we age. Facial features once accentuated by fullness can become marked by more severe contours and thin skin. Dr. Santin is able to help these patients by adding youthful volume to the face. Fillers are an ideal way of achieving the desired result. The procedure can be performed with minimal to no downtime and without the expense associated with surgery.
Fillers are commonly used to fill in deep smile lines and the lips.
Facial fillers can be expected to last six to twelve months or longer.
The procedure is short and most patients return to their normal routine immediately following the treatment.
The most popular of facial fillers are hyaluronic acid (HA) fillers. Dr. Santin uses the Restylane® and Juvéderm® family of fillers. HA occurs naturally in skin and these building blocks deplete as we get older. When injected into the skin the HA attracts water to the site resulting in a look that is soft and natural. HA fillers are reversible, have a low risk of side-effects and the results are long lasting.
While fillers are a safe solution for someone wanting to "freshen" their look, the outcome greatly depends on the experience and skill of the injector. It is important to make sure the person providing your treatment has been properly trained and has experience treating the desired area. Dr. Santin is highly trained in the art of fillers. His expert knowledge of facial symmetry and balance allows him to produce natural, youthful results.
Nasolabial Treatment Before and After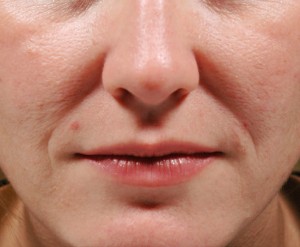 Before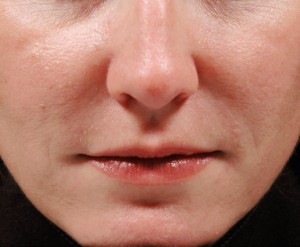 After